Description
Epson L850 Photo Printer
The Epson L850 Photo Color Printer price in Kenya, Nairobi is Ksh 65,000. It is not just a printer; it's a gateway to vivid and breathtaking visual experiences. Designed for photo enthusiasts and creative minds, this printer redefines the art of image reproduction. With its advanced six-color printing technology, the L850 delivers stunningly detailed and vibrant prints, capturing every nuance and shade with precision.
Whether you're printing cherished family photos, professional portfolios, or creative projects, this printer transforms your digital memories into tangible masterpieces. The convenience of integrated ink tanks ensures cost-effective and high-volume printing without compromising on quality.
With the added versatility of CD/DVD printing and borderless photo capabilities, the Epson L850 is a powerhouse of creative expression. Immerse yourself in a world where every print is a testament to the artistry of technology, and let the Epson L850 bring your visuals to life with unrivaled brilliance and clarity.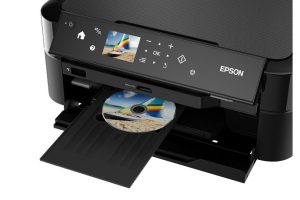 Buy the Epson L850 Ink Tank System Photo Color Printer in Nairobi at Novelty Technologies.
Printing Technology
Print Method: On-demand inkjet (Piezoelectric)
Maximum Print Resolution:5760 x 1440 dpi (with Variable-Sized Droplet Technology)
Minimum Ink Droplet Volume:1.5 pl
Automatic Duplex Printing: No
Control Panel:2.7" TFT Colour LCD
Print Direction: Bi-directional printing, Uni-directional printing
Nozzle Configuration:90 nozzles, each color (Cyan, Light Cyan, Magenta, Light Magenta, Yellow, Black)
Print Speed
Photo Default – 10 x 15 cm / 4 x 6 " *2: Approx. 27 sec per photo (Borderless)
Max Photo Draft – 10 x 15 cm / 4 x 6 " *2: Approx. 12 sec per photo (Borderless)
Draft, A4 (Black / Colour): Up to 37 ppm / 38 ppm *1
ISO 24734, A4 Simplex (Black / Colour): Up to 5.0 ipm / 4.8 ipm
Copying
Draft, A4 (Black / Colour): Approx. 37 cpm / 38 cpm
Scanning
Scanner Type: Flatbed color image scanner
Sensor Type: CIS
Optical Resolution: 1200 X 2400 dpi
Maximum Scan Area: 216 X 297mm (8.5" X 11.7")
Scanner Bit Depth (Colour): 48-bit internal, 24-bit external
Scanner Bit Depth (Grayscale): 16-bit internal, 8-bit external
Scanner Bit Depth (Black & White): 16-bit internal, 1-bit external
Scan Speed
Flatbed (Black / Colour): 300 dpi: 1.6 msec/line / 4.6 msec/line
Electrical Specifications
Rated Voltage: AC 100 – 240V
Rated Frequency: 50 – 60Hz
Operating: 12W
Sleep: 1.6W
Power Off:0.35W
Standby: 5.3W
More Specs On The Epson L850 Photo All-in-One Ink Tank Printer.