Description
Logitech P710e Speakerphone for all your mobile devices
Logitech P710e Speakerphone turns any workspace into an instant conference room. The Logitech Mobile Speakerphone P710e gives you hands-free calling and great audio for your phone or tablet. Noise-canceling technology helps ensure everyone can hear and be heard. Pair up to eight Bluetooth®, devices or connect with NFC by simply touching a device to the P710e. Take your next conference call almost anywhere.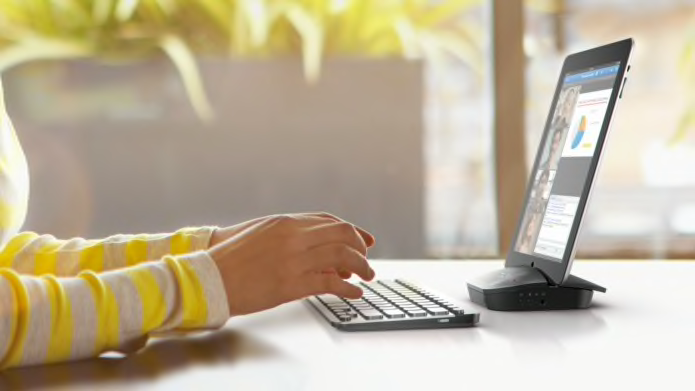 FLEXIBLE HANDS-FREE CONFERENCING
For the multitasking professional, the Logitech P710e speakerphone lets you instantly connect and start a video conference using your mobile device. The P710e holds your device steady for undisturbed visibility on the other end of the call while you take notes or type on a second device or computer.
TAKE THE MOBILE P710E ANYWHERE
When you need to take a call in a busy office, at home, or in a hotel room, the P710e speakerphone provides long battery life with up to 15 hours of talk time. A custom speaker and noise-canceling mic offer clear sound on both ends of the call. Plug headphones into the P710e for additional privacy.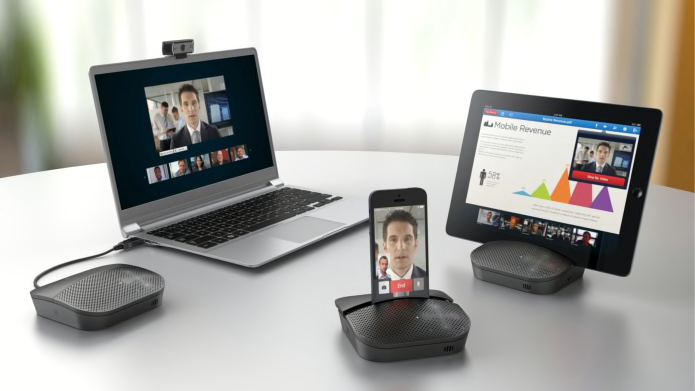 CONNECT INSTANTLY TO A MEETING
When you're ready to jump on a call, connect your mobile phone or tablet to the P710e speakerphone using Bluetooth with optional NFC pairing or the attached USB cable. Pair up to eight Bluetooth devices. Easily pair and unpair NFC-enabled mobile devices to the P710e by simply touching them together.
Video conferencing is easy with the P710e. Optimized for Microsoft® Lync™, Cisco® compatible, and certified for Skype® and Skype for Business, the P710e provides enterprise-quality audio and an integrated conferencing experience.